BOOKING ONLINE
New Trade Fair Centre of Rome
DISCOVER THE TRADE FAIR DISTRICT AND CONVENTION FACILITIES
The New Trade Fair Centre of Rome. Inaugurated in April 2006, it is one of the largest and most accredited exhibition centres in Europe. It is situated in the south-west outskirts of the capital and is served by a network of transport connections that makes it readily accessible.

In this sense Hotel Miami, located in the centre of Rome, is ideal for those wanting to reconcile trade fair business with enjoying the beauty and fun of the Eternal City in their free time.

The brand new and functional trade fair district
ONE OF EUROPE'S LARGEST AND MOST ACCREDITED TRADE FAIR CENTRES
The strategic location, just a few minutes walk from Termini station and therefore from the FR1 station, will allow you to relax after a hard day's work by taking advantage of all our comforts before you dive, regenerated, into the numerous initiatives offered by evenings in the city centre.

For working groups who need to stay for the entire duration of the fair, we can provide customised packages.

No comments entered
SUBSCRIBE NOW TO
OUR NEWSLETTER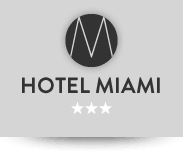 Credits TITANKA! Spa © 2014
Privacy & Cookie Policy
-
Cookie preferences
-
P.Iva 01994321006