BOOKING ONLINE
Hotel
DISCOVER OUR ELEGANT HOTEL
A dive into the past:

The Hotel Miami is located on Rome's Via Nazionale, the main avenue in the Monti district, the first ward in the Eternal City.

A hill set between those of the Quirinal Hill and the Esquiline Hill. In Roman times it was home to the houses of the old patricians who ruled from the picturesque esplanade of the Imperial Fora and the infamous Suburra inhabited by the mob.

Welcoming environment
THE HOTEL YOU WERE LOOKING FOR
The Hotel Miami can be found in the middle of Via Nazionale, in an ancient building built in 1870, which was the home of Quintino Sella, an influential finance minister in the Kingdom of Italy.
Entering the main lobby of the building, the gleaming original antique marble floor and stone walls will immediately make you feel that you are immersed in the vibrant and captivating historical atmosphere that permeates throughout the capital.

SERVICES
24-Hour Concierge Bar / Coffee shop, Wi-Fi, organised trips in the city and outside the city, Laundry service, Fax and express mail service, Babysitter upon request, Car parking facilities, Currency Exchange, Car and Motorcycle rental, Taxi service to the airport, Left-luggage service.

No comments entered
SUBSCRIBE NOW TO
OUR NEWSLETTER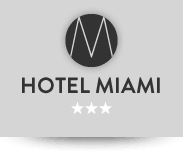 Via Nazionale, 230 - 00184 Roma (Rm) - Tel.
+39 064817180
- +39 3662905526. -
WHATSAPP
- Fax
+39 06484562
- E-mail:
info@hotelmiami.com
Privacy & Cookie Policy
-
Cookie preferences
-
P.Iva 01994321006