BOOKING ONLINE
Rooms
The Miami Hotel has 41 spacious rooms, where style and cleanliness come together to create a welcoming and relaxing environment.

The rooms offer a picturesque view overlooking Via Nazionale: on the right you can get an exclusive glimpse of the Altar of the Fatherland and on the left the monumental Fountain of the Naiads in Piazza Esedra (now Republic Square).

No comments entered
SUBSCRIBE NOW TO
OUR NEWSLETTER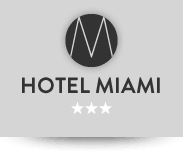 Credits TITANKA! Spa © 2014
Via Nazionale, 230 - 00184 Roma (Rm) - Tel.
+39 064817180
- +39 3662905526. -
WHATSAPP
- Fax
+39 06484562
- E-mail:
info@hotelmiami.com
Privacy & Cookie Policy
-
Cookie preferences
-
P.Iva 01994321006